One of the most magical places you could ever visit in California would be the infamous Yosemite National Park. If you have never been here, put it on your list NOW. Yosemite has a significant amount of activities to offer families, children, and outdoor enthusiasts alike.
I went to Yosemite National Park over Mother's Day Weekend because I was trying to avoid the spring season crowds and SUCCESS! There were definitely visitors but it was nowhere as packed as it is during their non-peak season. My fiance had never done the 'Mist Trail' so that's the route we chose this time.
First Things First
Do your Research so you know what trail(s) you want to hike
Know your physical ability
Start Early (before 9 AM) to avoid hiking with the rest of the world
PACK IT IN and PACK IT OUT! Keep Yosemite Clean – (TIP: bring a ziploc bag for your toilet tissues)
The Mist Trail is a popular trail for all levels but you will see a lot of beginners and amateur hikers, but do not downplay this trail just because you see children doing it too. You have two trail choices to get to both Vernal Falls and Nevada Falls (map photo below).
The Mist Trail follows the river so you stay pretty low to the river and get great views of the Yosemite foliage. Then there is also the John Muir Trail that goes around the mountain and will take you to the top of Nevada Falls and near the top of Vernal Falls.
Named the Mist Trail because as you approach Vernal Falls, you will get DRENCHED so be smart and bring a poncho to wear on top. There are a lot of slippery rocks around this area so you want to make sure you have good hiking shoes with strong grips. I would save some energy to power through this portion fast because it can get wet and you exhausting, but you really don't want to stop here!
Once you make it to the top, give yourself a quick pat on the back and take a quick break and have some snacks. There are a ton of grey squirrels at Yosemite, and they ARE extremely friendly towards humans and will eat bread crumbs, nuts, etc out of your hand. There are a lot of signs that say do not feed the wildlife, so I won't encourage you to break rules, just know they may come near you if you are enjoying your lunch.
If you want to continue hiking up, the next stop is Nevada Falls. There a couple of ways to get there from Vernal Falls. The trail will split and you can choose to continue along the Mist Trail or the John Muir Trail to the top of Nevada Falls. It's about a 1.5 mile either way you go to get to Nevada Falls. We chose to take the John Muir Trail which gives you great views of the Nevada Falls from a distance as well as other areas of Yosemite. If you follow the Mist Trail you will continue to follow the river.
TIP: You can go one way up and the other way down!
Note: We took John Muir Trail from Vernal Falls to Nevada Falls in Spring time. There is an enormous amount of water leaking all throughout Yosemite National Park during this time of year due to the snow melting. There was a section of our trail where you have to walk through an unnamed waterfall. When I say walk through, I literally mean there is a small but very noticeable waterfall that dumps straight down onto the John Muir Trail (pictured below) and there is NO avoiding it.
When you make it to the top of Nevada Falls, give yourself another pat on the back! I would take a quick break and enjoy another snack here. You will find that there is significantly less people here compared to Vernal Falls. There's also more space (I think) up here than at Vernal Falls so I recommend saving your lunch here. We chose to go up a little ways further by following the river and found an empty area to picnic and hangout while listening to the rushing river.
From here, you have several options. You can continue hiking up to Little Yosemite Valley or you can make your way back to down the mountain to the main Valley (Half Dome Village previously Curry Village). Depending on your hiking experience and level this will vary. For day hikers I always encourage estimating 1-3 hours for resting and enjoying the view, or else what was the real point of all that hiking?
We took the entirety of the "Mist Trail" for our route back down (we split off to the John Muir Trail after Vernal Falls on our way up). This is the shortest route but it definitely is not the easiest by any means. This upper portion of the trail was constructed sometime long ago, so construction methods and standards were a little different then. A good portion of the trail looks like the photo above, so just be prepared.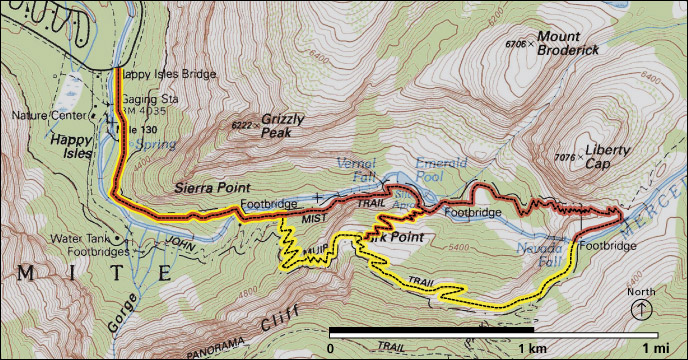 Happy Traveling, hope you all have an amazing Memorial Day Weekend!
Our Route:
Yellow Line: John Muir Trail
Red Line: Mist Trail
Happy Isles >>> Vernal Falls via the Mist Trail
Vernal Falls >>> Nevada Falls via John Muir Trail (cross over near Footbridge to Clark Point and take JM trail in yellow to Nevada Falls)
Nevada Falls >>> Happy Isles via Mist Trail