I've been wanting to go 'glamping', or glamorous camping, for a while now and have seen some awesome photos of campsites renovating yurts and even airstreams as part of their accommodations. Of course I couldn't miss an opportunity like this myself and I've been itching to head back to Mendocino for a while now. I used to go to summer camp in Mendocino County when I was a kid growing up in San Francisco, but I haven't been back since I was about 10 years old.
I found this site, Hipcamp, that provides you with campsites that have unique and fun accommodations. I saw that Mendocino Grove was an option near me that offered both airstreams and yurts, and located 1/2 mile from the town of Mendocino and within a 2-minute drive to Big River. We recently purchased a kayak and have loved taking it on all of our outdoor adventures.
Accommodations: Mendocino Grove

We decided to stay in the Airstream because it came equipped with a bathroom which was perfect because the common toilet area would have been pretty creepy at night. The airstream also had a comfy queen size bed (pictured below) and a couch if you had a third guest or kid. Directly outside of the airstream was a firepit, you can purchase logs at the main entrance ($10- honor system) as well as a modern-style BBQ grill .
Mendocino is a coastal city so its not too hot and its not really too cold. The entire time we were there the temperatures fluctuated from 55F in the mornings and night and rose up to 65F during the day. Mendocino Grove is surrounded by a lot of redwoods so it does cast a shadow onto the campsite and the coastal breeze at the same time can cause for cold(ish) mornings, so make sure to bring a heavy jacket for those moments.
Our host provided hot coffee, hot tea, and light snacks every morning in the common area. There is ample parking and all of the other guests were extremely nice and friendly. We met people from all over the world as well as travelers from all over the U.S. The campsite is also dog-friendly and the area is full of dog-friendly stores, restaurants, parks, and beaches so this a great trip idea if you want to bring your furry bud!
Things To Do
Kayaking Along Big River/Mendocino Headlands State Park
We recently purchased a kayak and have been trying to get our moneys worth by taking it with us on any vacation we go by car. Most places in California have either a river, bay, lake, or some body of water where kayaking is a possible activity. The Big River in Mendocino goes through Mendocino Headlands State Park (map below) and is extremely calm moving water in addition to being shallow (3-5 ft).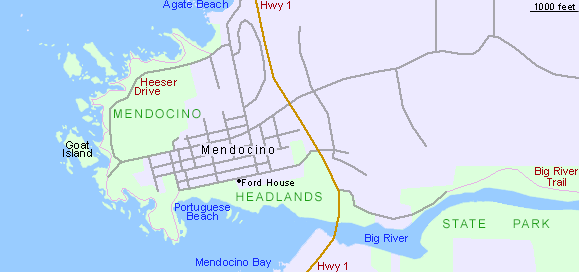 Since you're entering where the salt water and fresh water meet there's a decent amount of wildlife that we saw along our 3-hour kayak ride. We saw a few species of ducks and other birds during our kayak. The most exciting animals we saw were the three seals (pictured below) laying out in the sun.
Travel Tip: If you are planning on kayaking along the Big River, I've got some tips below for you;
You can rent and launch from Catch-A-Canoe for a fair price
If you research the tides you can make your kayak adventure even more relaxing by going with the stream on high-tide (go up the river). Hang out for a while, eat you lunch, maybe try to go on a trail and hike around Mendocino Headlands State Park. Catch the tide as it heads downstream in the late afternoon.
Downtown Mendocino
Downtown Mendocino is such a cute quaint town full of lots of history and the most friendly locals. Everyone is really excited to share the rich history that makes Mendocino so unique and even in a small town with a population of 864, they have several historical homes and stores. We stopped by the Kelly House (pictured above) which was constructed in 1861 and was one of the first family houses constructed during Mendocino's heyday. Its completely free to visit, they do ask for a donation if you can spare ($5 per person) and their is a docent there to give you a tour of the house (upstairs and downstairs) as well as tell you some family stories about the Kelly Family.
This slideshow requires JavaScript.
We also stopped by the Art Center because they were having an open exhibit the day we happen to be there and we got a great view of the coast, which you definitely must see before leaving Mendocino. The downtown area also had some boutique stores with arts, toys, beautiful clothing, and even a pub that was pretty crowded on Friday evening. The town still does not have any municipal water and each family is responsible for caring and maintaining their own water. Therefore, all throughout the town you will see water towers (like the one pictured below) on every block which provides the whole town with clean water. You'll notice that most, if not all of the stores, are "buy local" and/or has everything "locally grown", which is always AWESOME.
Mendocino Coast
Before leaving downtown Mendocino pull over and check out the coast. You're within walking distance of the coast from downtown and there are many entrances and trails that can take you to the coastal view. We saw a lot of people in the rocks fishing as well as sailors, surfers, and beach enthusiasts alike. You could also hear the seals and sea lions nearby, the atmosphere was perfect.
Surrounding Areas
There's a lot of fun sites to check out nearby the town of Mendocino including miles of coastline. There are great sites like Glass Beach, Mendocino Black Sand Beach, several lighthouses, City of Fort Bragg, and much more. I have heard a lot about Glass Beach so I definitely wanted to check it out before I left, it was only about 20-30 minutes from Mendocino and well worth it.
Glass Beach
Glass Beach used to be the dumpsite for Fort Bragg in the 1950's and 1960's and flash forward 50+ years and, BOOM, its a popular beach which was once trash and is now everyone's treasure. The waves and current have broken up the glass bottles and debris that once filled the beach and now it looks like color rocks on the shore. As you walk through the beach you'll see items like rubber tires (pictured below) and shoes sticking out of the ground, and you can literally see nature growing around and over them.
They do ask that you not take any of their gems home because they've lost nearly half of the glass due to tourists taking them home, so I had to put mine back shortly after this photo. 🙁
Point Arena Lighthouse
Located about 45 minutes south of Mendocino is the Point Arena Lighthouse, which also happens to be the tallest lighthouse in the State of California (there is another one in Pescadero, CA that is the same height, so they're both the tallest in CA). Its located on Highway 1 which is always a beautiful drive, and the weather (in early June) was perfect. You can go all the way up to the top of the lighthouse where they have a viewing point, for a small fee of course. There is also a small museum located inside next to the souvenir shop with a lot of historical photos of both the area and the lighthouse (one pictured below).
There are a number of famous and not-so-famous shipwrecks that occurred right along this coastline, due to a nearby reef, which resulted in the construction of this lighthouse. One of the few that have not been decommissioned and still exist today.
Traveler Tip: There are like 155 stairs that you have to go up to get to the top. It's totally doable, children and elderly people did it no problem. I just want you to be prepared for the work-out part of it as well as for those of you that may be scared of heights.
Mendocino has definitely become one of my favorite local destinations after this last trip. I definitely plan on going back very soon for more glamping and coastal fun. Next time I would like to stay in one of the small inns or motels downtown or maybe even a cute bed and breakfast….until next time Mendocino!